Lawrence Paul Yuxweluptun Painting to Benefit Residential School Survivors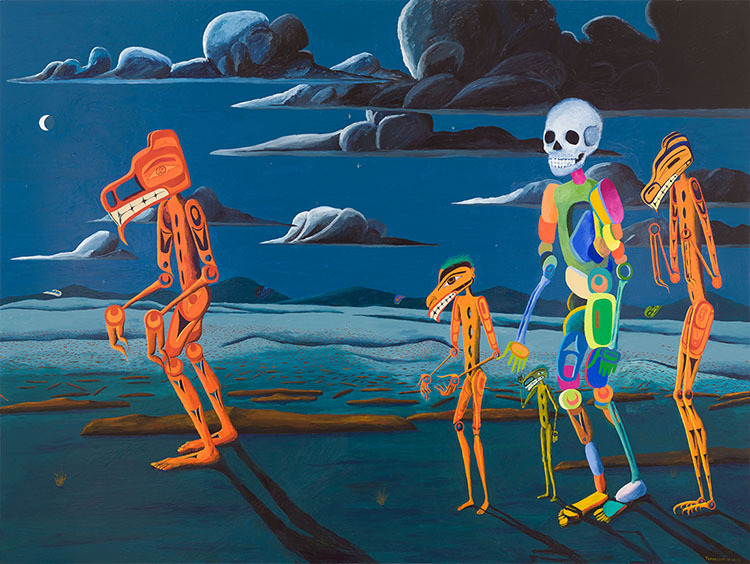 Posted on June 20, 2022
The large-scale work was originally commissioned to mark the inaugural National Day for Truth and Reconciliation.
A stunning new painting by celebrated artist and ECU honorary doctorate recipient Lawrence Paul Yuxweluptun (1983 alum) is being auctioned to support Indigenous survivors of residential schools.
The 2022 painting, titled Indian Residential School, Leaving the Shallow Graves and Going Home, is currently for sale through fine-art auction house Heffel, with proceeds to benefit the Orange Shirt Society and the Indian Residential School Survivors Society. Heffel, meanwhile, has committed to donating its buyer's premium to the same organizations. Macaulay & Co. Fine Art, which represents Lawrence, will also donate its commission.
Measuring five feet by eight feet, the large-scale work was commissioned in 2021 by Dixon Mitchell Investment Counsel to mark the inaugural National Day for Truth & Reconciliation.
Lawrence was born in Kamloops and raised in Richmond, BC. He is of Coast Salish and Okanagan Nation ancestry and graduated from ECU with an honours degree in painting. He was awarded an honorary doctorate from Emily Carr in 2019.
Speaking in a video from his Vancouver studio, Lawrence said the painting depicts the spirits of children killed in Canada's residential schools as they return home from the shallow graves where their bodies lay buried.
"I'm showing the world the truth: that in this country we murdered and raped and tortured and experimented and starved and killed them for over 100 years," Lawrence says in the video produced by Heffel.

"We're at the stage of finding the bodies. And we're at the stage where the government admitted that they did wrong. As a survivor I've found it very difficult to grasp not knowing that you wake up and they're going to find more shallow graves. It's something that only survivors can explain what sorrow we have. This country has to carry the burden of what it did to us, as a nation. It has to be accountable for what it did. This is the kind of help that we need. We can get along — it's not that difficult to start at some point, to do something together. If we start that way then we can start on the right foot."
While the Indian Act remains in place, he adds, Canada will never be able to "move forward as a nation … We will always be a segregated country."

In a statement, Laio Hyrcha, executive director of the Orange Shirt Society, said, "The Orange Shirt Society would like to thank renowned Indigenous artist Lawrence Paul Yuxweluptun for commemorating the inaugural National Day for Truth and Reconciliation painting. Thank you for sharing your work with not only us but the world."
Laio goes on to thank Dixon Mitchell Investment and Heffel, adding, "We hope this is the start of a lasting relationship for years to come."
Heffel has estimated its final sale price for the painting at between $125,000 and $175,000.
Visit Lawrence Paul Yuxweluptun's website to learn more about his work. Learn more about the National Day for Truth and Reconciliation via APTN or at canada.ca.