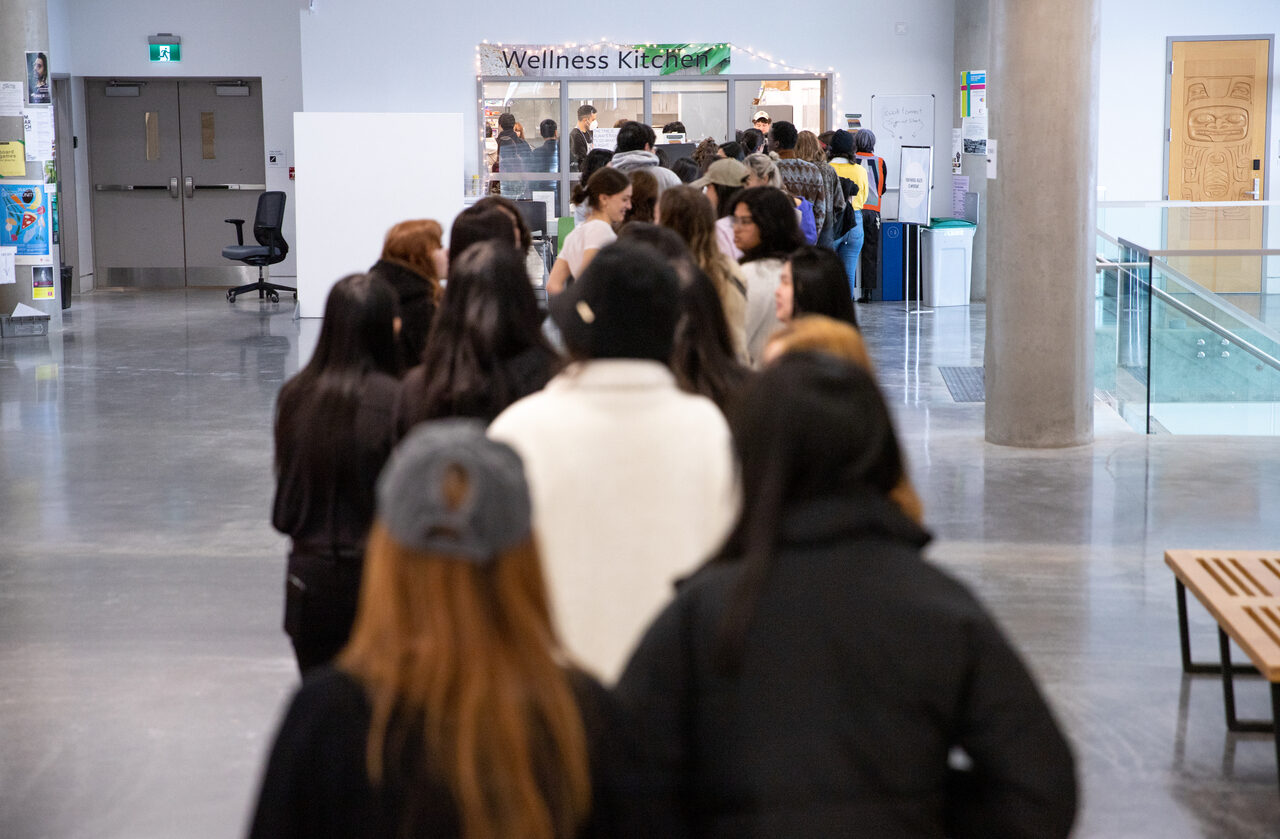 This spring, we are launching a new way to support students under the Emily Cares emergency funding program.
Emily Carr University of Art + Design created the Wellness Kitchen as part of the Counselling + Wellness department to address ongoing issues our students face. Not every student who needs counselling support will seek individual counselling, and there is a 4-5 week wait list for individual counselling. The Wellness Kitchen programming allows us to capture a wider audience of vulnerable students and increases access to counselling and mental health support. It is a very popular program for ECU students and there is no other programming like it on campus.
In Fall 2022, each Monday, Tuesday, and Friday, upwards of 300 students participated in breakfast programming. On Wednesdays, 40-60 students participate in baking social programming (this number is due to space limitations) and the same numbers on Thursdays for the lunch hour Cook&Connect program. In addition to regular programming the Wellness Kitchen also recognizes special days of acknowledgement, including the National Day of Truth and Reconciliation, Lunar New Year, Black History Month, and Trans Day of Visibility.
The increasing demand and the future of the Wellness Kitchen programming rely on you, our generous supporters of Emily Carr University.
The average cost per student per visit to the Wellness Kitchen is $2.50 for regular food/kitchen programming. This minimal cost goes a long way in the lives of each participating student. They receive nourishment, connect with their peers, foster self-esteem, and learn valuable life skills. A gift of $25 will provide the resources for 10 students, $100 will help 40 students, and $250 will provide enough resources for 100 student visits!
A parent who attended an open house event for prospective students said, "the Wellness Kitchen 'sealed the deal' for her daughter to come to Emily Carr. Other universities can teach you how to do things, but she can see that at Emily Carr, the focus is on the student." With your help, we hope to continue this student support programming at the Wellness Kitchen. All the proceeds from your donation go directly to the Wellness Kitchen and the students.
Here's how you can help.

Your gift through CanadaHelps, by mail, or by contacting the Advancement Office at 604 630 4562.
Another option for giving is to join our Monthly Giving Program through CanadaHelps. Monthly donors hold a special place for students because your donations will provide consistent resources to the Wellness Kitchen. Your monthly gift goes a long way to help Emily Carr University students, allows us to reduce our administrative costs, and assists us with long term planning.
Thank you for caring about Emily Carr University students. Your donation will ensure that neither food insecurity nor any other unexpected financial emergency will prevent an Emily Carr student from attaining a university degree. Please donate today!